Sometimes, we think tradition is really boring. Other times, we embrace it wholeheartedly. Today is one of those times as the tradition we are being encouraged to embrace involves eating. Happy National Cream Tea Day gang.
Enjoying a cream tea is as quintessentially British as it gets: the love of hot crumbly scones, sweet strawberry jam, dollops of clotted cream and a steaming mug of tea dates right back to the 1840s.
The timing of this special day deliberately coincides with three other much-loved British traditions: the end of Royal Ascot, the beginning of Wimbledon and the month of the Queen's birthday celebrations.
Read More: How To Make Your Own Delicious Scones
Keen to get involved? To celebrate, the Cream Tea Society (yes, there's an official society for cream tea, fantastic isn't it?) has shared some of their cream tea etiquette tips with us and finally put a stop to what is surely the biggest debate in the world of food:
Here's what they had to say on the whole shebang:
Loose-leaf is best. Brew loose leaves in a teapot, but remember to serve a second pot of hot water – just in case you've over-brewed.
If you don't want to pour, don't sit near the pot. The person nearest the pot should pour for everyone (if you're clumsy, best make sure it's not you).
Make the perfect brew. Allow the tea to brew for at least three minutes before pouring – time enough for the full flavour to infuse.
Tea before milk. Pour the tea first, followed by milk (so you can accurately judge the required strength) and then sugar.
Spoons on saucers, please. Once you've stirred, place your spoon on your saucer (think of the table cloth).
No outstretched pinkies! Always hold the cup between your thumb and forefinger. Contrary to popular opinion, sticking your little finger out does not a lady/gentleman make.
Simply break apart. The perfect scone should break apart with a simple twist! Just make sure you've got your saucer to catch the crumbs.
Spoon then spread. If the table is laden with bowls of jam and cream, spoon your desired amount onto your plate first, before spreading them thick on your scone.
Jam before cream. While there's much debate around which goes first – a dispute dividing Cornwall (jam first) and Devon (cream first) – etiquette gurus Debrett's say you should spread your jam before dolloping cream on top.
Our final word. Never use whipped cream. It's utterly improper.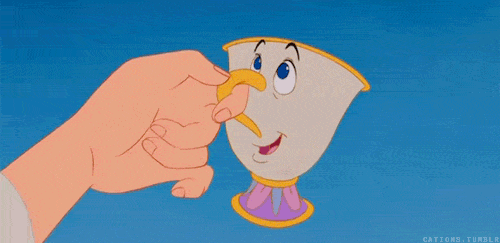 Read More: The Real Reason The Queen Always Carries A Handbag
Ten Tips For Taking Great Instagram Photos