Katy Perry is our next MTV Video Music Awards host, which is exciting for a myriad of reasons but mainly because she could use the high-profile gig to do something really cool for feminism.
The singer, one of the bestselling of all time, revealed the news in a statement, alongside a photo of herself dressed as the ceremony's trademark astronaut, giving a peace sign.
"I've been training with MTV in zero gravity, eating astronaut ice cream, and I'm on a group text with Buzz Aldrin and Neil deGrasse Tyson," she joked. "Come 27 August, I'll be ready to be your moonwoman! Brace for impact, kids."
Immediately, our eyes scoured the nominations. Katy is up for five gongs but there is another name on that list: Taylor Swift.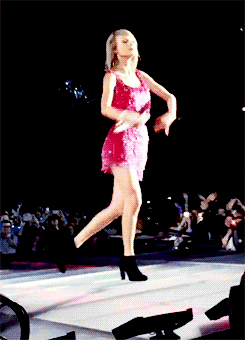 Chances are, you're at least vaguely aware of the long-standing feud between Katy and Taylor (see here for the background but long story short it started with them both wanting to use the same backing dancers on tour). This silly situation has seen them diss each other on Twitter, release diss songs about each other and avoid each other at awards ceremonies. Except that this time, avoiding each other might not be so easy.
Firstly, Katy is in prime position to say whatever the hell she wants to and will no doubt be encouraged to be controversial by producers. Secondly, if Taylor performs, presents an award or wins one, as she is expected to do either for her collaboration with Zayn on "I Don't Wanna Live Forever" or to pick up the prestigious Video Vanguard Award or both, the two leading ladies will be forced to interact in some way.
It's easy to hope that some serious mudslinging takes place. MTV certainly will be as far as the ratings go. But what if Katy and Taylor's names started trending on Twitter for the opposite reason? What if they used their positions as global pop superstars to set the example to their millions of young female fans that women are stronger when they support each other and that tearing other girls down does absolutely nought for feminism (just as Emilia Clarke pointed out earlier this week)?
In short, it'd be awesome.
There have been some hints that Katy would be up for calling a truce, or taking "the beef off the grill" as James Corden put it during her recent Carpool Karaoke.
She said on the Today show that she has "always loved" Taylor before going on to insist that she was "ready to let it go" during a livestream last month.
"I forgive her and I'm sorry for anything I ever did and I hope the same from her," she said. "I think it's time. There are bigger fish to fry and there are real problems in the world. You know what I'm saying? I love her and I want the best for her and I think she's a fantastic songwriter."
Taylor is yet to comment on Katy's recent mentions of the feud but let's hope she joins Katy in putting the sisterhood first soon. The feminist cause demands it.
Read More: Katy Perry Publicly Ranks Her Ex-Lovers For How Good They Were In Bed
Katy Perry Is Not Really The Most Followed Person On Twitter
The Hidden Tribute In Katy Perry's One Love Manchester Dress