Top Stories, You
General Election: The Full Lowdown On How To Register To Vote
Unless you've been hiding under a rock you'll know that another General Election is looming after Theresa May sprung it on us earlier this month.
Despite us all still recovering from the mayhem ofJune's EU referendum, Britain will go to the polls on 8 June, with many young people casting their vote for the first time. This means you have just over a month to read up on each party's policies and decide which one best represents your views, but your decision will count for nothing if you fail to register.
Make a note in your diaries: the deadline for registering to vote is midnight on Monday 22 May. If you have already registered, you needn't do so again unless you need to update your personal details or change your voting preferences (e.g to vote in person, by post or by proxy), but if you're at all unsure, double check with your local council. Young people need to make their voices heard like never before, so don't silence yours by failing to tick off this quick and easy bit of life admin in time.
How long does it take to register?
The registration process takes about five minutes. To register, visit the Government's website here.
How many questions are there?
The 11 questions include your date of birth, your address, whether you have moved in the last 12 months and how you would like to vote. Note that you'll be asked for your National Insurance number and passport, so make sure you have those to hand.
Can I apply for a postal or proxy vote?
If you want a postal vote, the deadline for registration is Tuesday 23 May and if you want a proxy vote, it's Wednesday 31 May. If you finding yourself needing an emergency proxy vote at the last minute, the deadline is 5pm on election day.
You will need to give a reason for a proxy vote and the person nominated to vote for you must do so in person. Said proxy nominee must be aged 18 or over and registered individually. They cannot be a proxy for more than two people unless they are a close relative – a parent, grandparent, spouse or civil partner, sibling, child or grandchild.
I registered for the EU referendum. Do I need to register again?
If you have moved house since you last registered, you will need to register again.  Only your name, address and a marker showing which elections you can vote for will appear on the register.
Can I register anonymously?
If you need to register anonymously for your safety, you will be added as a code. Bear in mind that you will need documentary evidence that proves you require this protection, such as a court order.
Once registered, you will not be able to take yourself off the electoral register unless you move.
I'm a student. Can I register at uni and at home?
Students can be registered at two different addresses but must only vote once in any given election. Voting twice is an offence.
Every person aged 16+ now has less than a month to register in order to vote in the UK general election https://t.co/Rw0AT7b7BK pic.twitter.com/wHm3XrfrLE

— Louis M M Coiffait (@LouisMMCoiffait) April 24, 2017
How do I actually vote?
If you are voting in person you will be sent a polling card in the post. It will tell you which polling station to go to. On election day, simply rock up and either hand over your card or tell the person on the desk your name and address for them to check against the electoral register.
I lost my polling card!
If you lose your polling card, don't panic. It's simply helpful for the admin staff if you bring it with you. If you need to know where to go to vote, ask your local election office.
Only those aged 18 or over on polling day in England and Wales can vote. In Scotland, you must be aged 16 or over.
Do I really need to bother?
Remember that women struggled and even died over the course of 60 years so that you could get the vote. The decision not to vote is your decision to make, but do not take it lightly. Elections are a chance to celebrate democracy, regardless of what you think of the candidates.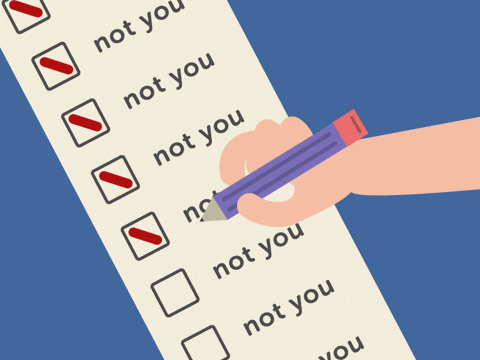 Oh and the Conservative party is currently expected to win the election after a poll revealed them to have 46% of the vote compared to Labour's 25%. Not happy with that forecast? Or happy with it but keen to make sure it happens? Get registering!