Emilia Clarke has hit out at "antifeminist" critics of her Game of Thrones nude scenes.
The Emmy-winning actress stars as heroine Daenerys Targaryen in the hit HBO series, which returned for its penultimate seventh season to palpable hype earlier this month.
The show, based on George RR Martin's fantasy books, has faced backlash since its launch for its numerous X-rated sex scenes and full-frontal nudity, with some viewers arguing that it objectifies women by needlessly flashing boobs seemingly every ten minutes.
But Clarke has had enough of the "crap" she gets for stripping off on camera. "I get a lot of crap for having done nude scenes and sex scenes," she tells Elle. "That, in itself, is so antifeminist. Women hating on other women is just the problem. That's upsetting."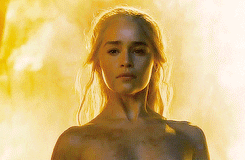 Game of Thrones fans will remember a key scene in season four which sees Clarke take control during a raunchy moment with her lieutenant Daario. "Take off your clothes," she recalls saying."It's brilliant. I actually went up to [the creators] and thanked them. I was like, 'That's a scene I've been waiting for!'"
Then, of course, there was the triumphant moment when she emerged unscathed from a fire, leaving her enemies burning in her wake. Totally starkers, yes, but also empowered.
Read More: Game Of Thrones Star Lena Headey Reveals The Sexist Truth About Actress Auditions
Sophie Turner Destroys The Trumps With A Single Tweet